Free Guide! Meeting Patient Expectations: 5 Ways to Evoke Change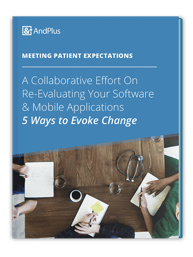 If your employees or users struggle to be efficient in their daily activities, it may be time to reassess your processes and needs. Luckily, we've gathered 5 unique ways to evoke change within your medical facility to generate new ideas, to ensure you are putting your patients first
This guide is full of information on how software and apps are helping medical companies stay ahead. By taking advantage of new technology, you'll be able to better meet user and patient needs.
In this guide, you'll learn:
The platforms currently being used by medical companies
How software and apps are increasing communication
Ways to make operations more efficient with technology
How to use software and apps to improve your quality of care
...and more!
Fill out the form and get FREE, INSTANT access to: "Meeting Patient Expectations: 5 Ways To Evoke Change"