Leading in the Gap: Amjed Al-Zoubi CIO, Amerisure
In This Podcast
Angela Spencer, SVP for AndPlus' Digital Transformation practice, speaks with Amjed Al-Zoubi, CIO of Amerisure, about his role as a transformation leader and the experiences and insight gained during his transformation journey. In their conversation, they discuss a wide range of transformation leadership topics:
Shifting to a more dynamic culture and managing risks of disruption

Cultivating a culture of experimentation and continual learning

Handling uncertainty and ambiguity

Empowering teams and creating a culture of experimentation

The CIO's role in orchestrating transformation

Scaling agile and managing risk of disruption in an intentional way

Handling setbacks and demonstrating transparency
…and more
About the "Leading in the Gap" Series
Leading transformation is challenging work and for companies undergoing transformation, everyone is living in the gap – the gap that exists between the current state and the desired future state (i.e., where the organization aspires to be.) The responsibility of transformation leaders is to lead through this gap and bring people and organizations along the way. This brings special leadership challenges.
In the "Leading in the Gap" series you will hear from transformation leaders working in various industries and explore their thoughts and experiences about the challenges of leading in the gap, what has worked for them, lessons learned along the way, and what they wish someone had told them to better prepare for the role of leading in the gap.
Podcast Speakers
Host: Angela Spencer, SVP for AndPlus' Digital Transformation practice.
Guest: Amjed Al-Zoubi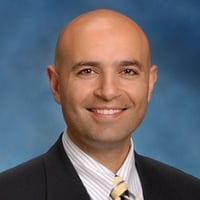 Amjed is a strategist and business leader with more than 20 years of experience delivering results by bridging the business-technology gap. Amjed joined Amerisure in 2018 and currently serves as CIO with accountability for IT, Innovation, Business Agility, and the PMO. Prior to joining Amerisure, Amjed held diverse roles at USAA, CUNA Mutual Group, and PwC, all of which allowed him to address business challenges and devise strategies from multiple perspectives.
Under his leadership, Amerisure is undergoing an agile transformation, a digital transformation, and is modernizing the IT department, improving solution delivery and business outcomes.