Leading in the Gap: Dr. Shelley Johnson, Dean, FAMU School of Nursing
In This Podcast
Angela Spencer, SVP for AndPlus' Digital Transformation practice, speaks with Dr. Shelley Johnson, Dean at Florida A&M University (FAMU) School of Nursing. In their conversation, they discuss a wide range of transformation leadership topics:
Digital transformation at the FAMU School of Nursing
Transformation challenges during the pandemic
Tips for communicating during transformations
Motivating people over the long haul
Practicing self-care in the transformation journey
…and more
About the "Leading in the Gap" Series
Leading transformation is challenging work and for companies undergoing transformation, everyone is living in the gap – the gap that exists between the current state and the desired future state (i.e., where the organization aspires to be.) The responsibility of transformation leaders is to lead through this gap and bring people and organizations along the way. This brings special leadership challenges.
In the "Leading in the Gap" series you will hear from transformation leaders working in various industries and explore their thoughts and experiences about the challenges of leading in the gap, what has worked for them, lessons learned along the way, and what they wish someone had told them to better prepare for the role of leading in the gap.
Podcast Speakers
Host: Angela Spencer, SVP for AndPlus' Digital Transformation practice.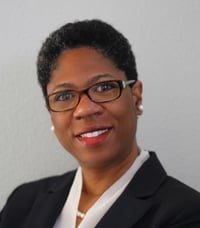 Guest: Dr. Shelley Johnson holds a bachelor's and master's degree in nursing, and a doctorate in educational leadership. Most recently, she graduated from Northwestern University's, Kellogg School of Management's Executive MBA program in 2019. She has completed certificate programs from Harvard University in educational leadership and a Community Participatory Research Fellowship at University of Pennsylvania.
She is dedicated to life-long learning, and she has created, taught, and led undergraduate and graduate programs for more than 18 years. She currently serves as the Dean and Professor at the Florida A & M University, School of Nursing and she is an independent consultant for Kairos Solutions, LLC. Her specialties include higher education, leadership, curriculum and instruction, assessment, and community health. She is certified as a nurse executive, nurse educator, and as a comprehensive systematic reviewer.
She has participated in research related to a variety of topics including healthy educational environments, health disparities, cultural diversity, advocacy, leadership, and nursing education. She also conducts presentations and workshops on these topics to educational and business groups.