"Leading in the Gap" Podcast: Melissa Ehresman, USAA Chief Digital Officer
In This Podcast Episode
Host Angela Spencer, SVP for AndPlus' Digital Transformation practice, speaks with Melissa Ehresman, Chief Digital Officer at USAA. In their conversation they discuss:
How transformation leadership can differ from other leadership roles

The "golden nuggets" to effective transformation leadership

Key challenges facing transformation leaders

How to keep people engaged in the transformation process

Managing the pace of change
...and much more
About the "Leading in the Gap" Series
Leading transformation is challenging work and for companies undergoing transformation, everyone is living in the gap – the gap that exists between the current state and the desired future state (aka where the organization aspires to be.) The responsibility of transformation leaders is to lead through this gap and bring people and organizations along the way. This brings special leadership challenges.
In the "Leading in the Gap" series you will hear transformation leaders working in various industries share their perspectives on the challenges of leading transformation, what works for them, lessons learned, and what they wish someone had told them to better prepare for the role of leading in the gap.
Podcast Speakers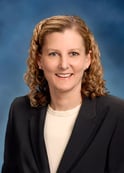 Host: Angela Spencer, SVP for AndPlus' Digital Transformation practice
Guest: Melissa Ehresman has a distinguished career as a digital, IT and transformation leader at several Fortune 500 companies including Capital One, Genworth Financial, and USAA.