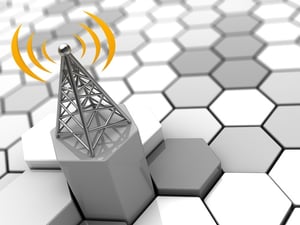 The events of Sept. 11, 2001—as well as those of many large-scale disasters since then—highlighted the shortcomings of the communications systems used by first-responder emergency services agencies. Various police, fire, and emergency medical services personnel operated on different radio communication channels and thus could not share information with each other. Even within agencies, communication channels became overloaded with traffic. It was clear that the traditional network of dispatchers, command centers, vehicle radios, and walkie-talkies was not up to the task, and a better solution was needed.
FirstNet: A Long Time Coming
In 2011, the U.S. Federal Communications Commission approved the use of the Long-Term Evolution (LTE) wireless communication standard for a next-generation first responder communication network. In 2012, the U.S. Congress funded the initiative and allocated the necessary electromagnetic spectrum for it. The First Responder Network Authority (FirstNet) was established as an independent agency to setup and manage the network.
Since then, FirstNet has dedicated itself to determining the technical requirements and specifications of the network, and engages with various public and private partners to plan and execute the implementation. In 2017, FirstNet chose AT&T to build the network. In early 2018, the company delivered the "network core," the first step in making the network available to emergency services agencies nationwide.
What It Means to First Responders
The FirstNet network gives first responders communications capabilities they have never had before:
A single network of their own. Most first responders have been limited to voice communication on analog radio channels, with some data access over shared public cellular networks. With FirstNet, they have a dedicated cellular network that carries voice and data traffic, so first responders can share and access text, photos, video, geolocation data, sensor data, and more. Having a dedicated network reduces network congestion because it isn't shared with regular cellular communications traffic.
Interoperability. Agencies no longer have to operate in isolation. As a single, nationwide network, agencies from various jurisdictions (think cities, counties, states) and disciplines (such as fire, police, ambulance, and utilities) can communicate with one another seamlessly.
Channel management. The FirstNet system enables first responders to establish which agencies get priority access to transmit their messages, and whose access can be preempted; further, these priorities can be adjusted on the fly as a situation evolves. For example, in a mass shooting or hostage situation, the police agencies might get top priority at first, shifting to fire and rescue when the shooting stops. In a building fire, the electric or gas company can get elevated priority long enough to turn off the power or gas to the building or neighborhood.
On top of all that, the FirstNet system will have an app catalog, similar to the Apple App Store and Google Play Store. Apps will be developed to bring innovative solutions and enhancements to the network.
FirstNet was also designed with security in mind from the ground up as an important principle. The network is designed to be resistant to hacking, eavesdropping, spoofing, jamming, and other attacks. The entire network will be monitored around the clock by a dedicated AT&T team to analyze, identify, and defend against attacks.
Under the Hood
The FirstNet network operates on "Band 14," a 20-megahertz swatch of radio band separate from commercial cellular frequencies. In a phased approach, AT&T is enabling this band by adding equipment to its cell towers. Happily, some existing LTE devices can operate on the network simply by installing a new SIM card; others will need software upgrades as well, but none should need any hardware modifications. Samsung's new Galaxy S9 phones are among those already available for use with FirstNet. Other manufacturers will soon introduce FirstNet-compatible devices as well.
The core network that AT&T recently launched is the foundation of the system. The other major component is the radio access network (RAN), which includes the cell tower equipment and protocols to communicate with individual devices. The RAN is designed for reliability and resiliency, including redundant power sources and other features to make the system robust against the physical damage that is inevitable in a natural disaster scenario.
Taking Emergency Response to the Next Level
Taken together, the FirstNet system, infrastructure, protocols, devices, and app ecosystem should enable emergency services to provide faster, more targeted, and more coordinated responses to all types of large-scale emergency situations. The result will be faster resolution, fewer oversights and errors, better safety for first responders, and more lives saved. It's been a long time in the making, but the final product will be well worth the time and money invested.