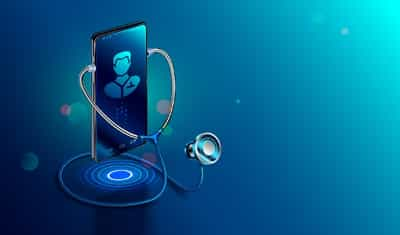 Among the more farfetched artifacts in the Star Trek universe is the medical tricorder. It's a handheld device that can read a patient's vital signs and even diagnose diseases when held near the patient. There's no need for blood draws, biopsies, or waiting for lab results; just "wave the magic wand" and get all the medical information you need within seconds.
Such a device could revolutionize modern medicine, enabling touch-free medical monitoring and making diagnoses much faster (and presumably, more accurate).
We aren't anywhere near having such a device, although many smart people are working it. There was even an XPRIZE of $2.6 million awarded in 2017 to a team that developed a prototype: It could read five vital signs and diagnose 13 medical conditions using a user-friendly, non-invasive device.
Work continues in this area, although it probably will be several years before a medically approved device reaches the market. For now, we'll continue to make-do with medical-related smartphone apps and similar devices.
Let's examine what we have: medical apps today and in the near future.
The Medical App Universe
Thousands of available smartphone applications could be considered "medical-related;" from apps that enable users to find information about drugs or medical conditions to apps which transform a smartphone into a full-fledged medical device (as defined by the U.S. Food and Drug Administration [FDA]).
According to FDA guidelines, a "medical mobile app" is a software program for a mobile device:
Intended for use with an external, regulated medical device or

Transforms the mobile device into a medical device.
In this context, a "medical device" meets the FDA's definition of a device intended for "diagnosis of a disease or other conditions, or the cure, mitigation, treatment, or prevention of disease, or is intended to affect the structure or any function" of a human body.
Any app that doesn't meet these criteria is not considered a medical device app and is outside the FDA's regulatory jurisdiction. The FDA is concerned about misuse or malfunction of apps.
An app controlling an implanted pacemaker or monitoring blood glucose sensor qualifies as a medical device app. An app enabling a user to manually record body temperature, weight, and heart rate in a cloud storage system does not.
All clear on that?
Medically Prescribed Apps
Many medical-related apps—whether "medical device apps," or not—might be recommended by a doctor or other medical professional. They can be called "medically prescribed apps." (It should be noted this term can be misleading; there are no medical-related apps that require a doctor's written prescription to download and install.)
Some apps are useless without integrating with a separate medical device that does require a doctor's prescription. And nothing is stopping you from putting these apps on your phone. Some examples of the kinds of apps a doctor might recommend include:
Apps enabling users to calculate metrics such as body mass index, mean arterial pressure, or ovulation date

Apps like CareZone™, that remind users to take their medications, do certain exercises, or make appointments

mySugr® and similar apps enabling patients to log metrics related to specific medical conditions

Systems like Fitbit® that record and report users' exercise habits and specific physiological metrics
These types of apps, although not necessarily medical device apps, enable patients and their caregivers to take better control of medical conditions. This can reduce emergency-room visits, ensure compliance with treatment regimens, and can lead to effective patient outcomes.
Navigating the Regulatory Waters
Developing a medical device app is trickier than developing other kinds of apps. In the U.S. and many other countries, medical devices are tightly regulated and cannot be marketed or sold without regulatory approval. Getting that approval can be time-consuming and expensive. Sometimes, jumping through regulatory hoops takes longer and costs more than actual product development.
Every medical device regulatory agency requires medical device developers have a quality system process on which all employees are trained. The quality system must include certain features, such as:
Clinical trials on human subjects may be required, depending on the device (These can get expensive fast.)

Policies and procedures for executing product recalls

Procedures for designing, developing, and testing the medical device to ensure its safety and effectiveness

Procedures for recording and tracking customer complaints
It's also important to remember that sometimes, the only thing separating medical devices from other devices is intended use. A device not normally considered a "medical device" might become one by claiming medical benefits in its marketing.
There may be other regulations that must be observed, such as the Health Insurance Portability and Accountability Act (HIPAA) for devices that record, store, and transmit patient medical records.
For these reasons, many app developers market their medical-related products to avoid the FDA's definition of "medical device." They have to be careful. Selling an unapproved device as a "medical device" can put a company out of business.
The Future of Medically Prescribed Apps
With continued advances in technology, the market for medical-related apps is expected to see double-digit annual growth through the next decade.
Mobile device platforms offer many functions advantageous for medical-related apps:
Bluetooth/near-field communication (NFC) transceivers – Can communicate with sensors attached to or implanted in the body

Built-in or attached microphones – Could be used in the same way as stethoscopes

Camera - Can record high-resolution pictures of skin conditions that could be diagnosed through deep-learning-based algorithms

USB/Lightning connector – Enables integration with a wide variety of sensors and other accessories, like ultrasound imagers, EKG probes, blood-chemistry analyses, etc.
With the maturity of mobile device platforms, many advances will focus on the development of miniaturized sensors that can be integrated with mobile devices and the software to run them.
Look for an ever-expanding variety of sensors and diagnostic software tools. Many of them will be based on artificial intelligence (AI), and they may drive the mobile medical device market.
The future of the medical industry is mobility. We haven't even touched on the range of mobile apps that help medical professionals do their jobs faster and more efficiently. Some of these apps securely access and share electronic health records; others help prescribers understand drug interactions and alert patient-care professionals to patients in distress.
Whether or not we ever see a medical tricorder that would impress Dr. McCoy of Star Trek, with mobile devices we have an opportunity to go boldly where no medical care has gone before.