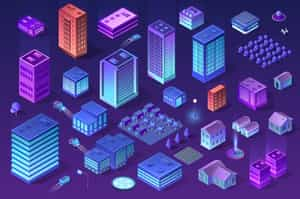 If you live, work, or just drive around in any large city, you know how frustrating it can be to find a place to park your vehicle. Paying for the privilege is a given; it's just a question of how far away from your actual destination it will be and how much you will be charged.
Often, the most reasonably priced parking, especially if you aren't staying long, is metered street parking. Usually it's straightforward: Park, put money in the meter according to how long you expect to stay, and go about your business. In some locales, however, the posted rules are so complex that it's nearly impossible to tell whether you can park there legally at any given time, or for how long.
An Information Gap
In some cities, even the municipal parking authorities have trouble interpreting the multiple regulations that may affect a given stretch of curb. Some cities have maps, but often they aren't published online, and would be difficult for the average citizen to parse anyway. Databases of parking rules are essentially nonexistent.
What's needed is an easy "yes/no" answer that's available to drivers—that is, a mobile app. Such apps do exist for some cities. But a Swedish startup called Mapillary has greater ambitions: It wants to compile databases of street parking information for many metropolitan areas, and is leveraging Amazon's machine vision technology to do it.
A Novel Data-Gathering Approach
How would this work? Mapillary has a trove of 350 million photographs tagged with location information, taken from city streets around the world. Some of these photos include parking signs. By using Amazon's Rekognition API to read the signs, Mapillary is able to construct detailed information about when it is legal to park in a given location.
A database of parking rules by location has many potential uses:
Cities could use such a database to provide mobile parking apps to both drivers and parking enforcement personnel.
Cities could combine the parking database with actual demand data to determine where pricing could be adjusted or metered spaces added to maximize parking revenue. With electronic parking meters now the norm in many cities, pricing could even be adjusted over the course of a day in response to demand, the way that some toll roads have adopted demand-based pricing.
Parking authorities could use the data to determine which areas have overly complicated or even self-contradictory rules, or where the posted rules don't match the actual regulations. This could be especially useful in some places, such as Malibu, California, where local residents have been known to post their own official-looking but bogus "No Parking Any Time" signs to keep the hoi polloi from parking in their neighborhoods.
In this way, Mapillary (and by extension Amazon) is one-upping Google, the current king of online map-related applications. Google, of course, also has a large collection of street-level, location-tagged photos, as well as technology that can read text in photographs, but apparently this particular application has not yet occurred to them. Amazon appears to aspire to wrest some market share from Google in the fast-growing area of map-related applications and services, and if successful, this venture could really put them on the map, so to speak. (Sorry, couldn't resist.)
Not Just Parking
Of course, the Rekognition machine-vision API—which, as a machine-learning system, gets better the more it's used—can do more than just read parking signs. Any kind of signage, such as building and business names, address numbers, and more, can potentially be used to populate databases for various applications. As Mapillary's photo repository grows—most of the photos were crowdsourced from individual contributors—it will become a more valuable resource for mapping applications that haven't even been imagined yet.
Machine learning technology is still quite new; not only is there still a need for research and development to improve machine learning algorithms and make them easier to implement, but there's also a need for creative, innovative people to find cool ways to take advantage of the technology to improve our lives. The work that Mapillary and companies like it are doing is a perfect example: Taking information that is hidden in the data and using machine learning to extract that information to make it useful. It's this kind of thinking that will continue to take machine learning systems from demonstration novelties to real, practical applications. Look for more unexpected innovations like this in the near future.