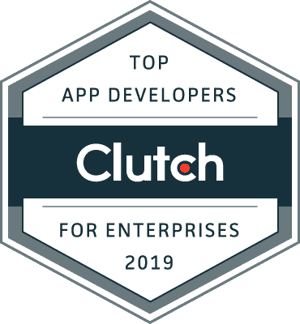 76% of IT professionals state that it takes three months on average to develop an app, so it's important to choose the right app developer. At AndPlus, we are focused on solving complex problems with software, and doing it fast. Clutch, a B2B ratings and reviews site, has released the 2019 Clutch Leader list. AndPlus is happy to announce that we have been named one of the top app developers for enterprises!

Clutch, a Washington, DC-based company, provides fair and transparent rankings of B2B companies. Their team of independent analysts conducts itnerviews with B2B clients and publishes reviews of past projects. These reviews form the basis for their ranking system and serve as a resource for potential customers. We are thankful to all of our clients who have left us reviews and allowed us to maintain a 4.9-star rating!


Clients can also visit Clutch's sister sites, The Manifest and Visual Objects. Our Manifest profile details our service lines and notable past projects. The Manifest combines survey data, how-to guides, and company shortlists to guide customers through the buying process. Visual Objects serves as a B2B resource site that allows designers and developers to display their portfolios. The site provides clients with a visualization of a service provider's past projects to better inform their decision.

We are thankful to Clutch and our clients, who have made this award possible by leaving us reviews. Interested in working with us? Check out our Clutch profile or contact us!