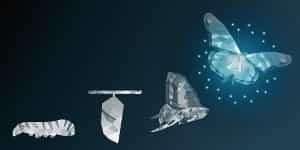 One of the biggest mistakes a business can make is to assume today's success will be there tomorrow. A company can thrive for generations, relying on a tried-and-true formula for success. It's easy to fall into the trap of believing that what has always worked in the past will always continue to work in the future.
All it takes is one disruptive technology, one upstart company that comes out of nowhere with a better, faster, cheaper, more convenient way to deliver the same products and services, to completely upend an established company's entire business model.
No one can predict the future, so it's inherently difficult to anticipate these developments. But there are things businesses can do to put themselves in a better position to respond to these developments when they occur. The most important of these is digital transformation.
Digital Transformation: A Review
AndPlus understands digital transformation as the process of organizational change brought about by the use of digital technologies and business models to improve performance. Under this definition, digital transformation must include the following:
Business objective; typically, a desire to "move the needle" on some key

performance metric

Foundation of one or more digital technologies

Organizational change, which includes some combination of processes, people, and strategy
It's a tall order, and not easy to pull off. Many organizations treat it as no more than a buzzword. "All the cool companies say they're pursuing digital transformations, so we'll make the same claim," while being light on the specifics of what's actually being transformed.
Dig a little deeper and you'll find those businesses that successfully execute one or more digital transformations are better able to attract and keep happy customers. Their organizations reduce inefficiencies, eliminate cumbersome manual processes, and lower costs while readying for important market changes.
Digital Graveyard: Cautionary Tales
Do you want to know what happens to businesses that fail to take digital transformation seriously? Some examples are onetime giants in the retail industry: Kodak, Tower Records, and Blockbuster.
Kodak
When you're responsible for having come up with the Polaroid camera it's pretty easy to rest on your laurels. Polaroids, in fact, still have a place in pop culture with rising popularity in recent years for the old-school tech.
In fact, Kodak has been an innovator since the beginning, having been around since 1888 and commanding nearly 90 percent of the camera sales market in the U.S. in the 1970s.
Know what else the firm had in the 70s? A digital camera prototype, thanks to engineer Steve Sasson. The problem wasn't in the product though, but in management, which wasn't willing to potentially cut into its film sales.
Fast-forward to 2012, Kodak is filing for bankruptcy while the digital camera industry is dominated by Canon, Sony, Nikon, and others. Kodak isn't really relevant in a world that it, arguably, invented.
Tower Recor
ds
Tower Records was less of a household name, but was once among the most important global music retailers, with large, well-stocked stores in major cities around the world. If you wanted an obscure recording of a Beethoven piano concerto or the latest self-produced disc from a local indie band (and you were lucky enough to live close to a Tower store), that's where you went. The chances were good they had what you wanted or could get it without much trouble.
By the early 2000s, all was not well at the behemoth. In its 2004 bankruptcy filing, the company blamed its aggressive expansion in the 1990s and music piracy for its troubles.
Those may indeed have been important factors, but a closer look reveals the company's demise corresponds neatly with the rise of iTunes. Apple iTunes service debuted in 2003 and reinvented music delivery with on-demand service. Tower Records was completely unprepared for it.
Tower was a pioneer in online music sales; opening an e-commerce site as early as 1995. However, customers couldn't buy digital tracks the way they could on iTunes which also sold discs and tapes, just like the retail stores.
The rapid rise of the 99-cents-per-track digital model meant music customers could buy exactly what they wanted without spending $15 for a disc that held 10 songs they didn't care about. Perhaps Tower should have identified this trend and exploited it rather than focusing on music piracy.
Coulda, woulda, shoulda… All U.S. and most international Tower stores were closed by 2006, and even the tower.com website is now little more than a portal for Instagram posts.
Blockbuster Video
At one time in history, if you wanted to watch a movie at home, you had to get in your car, drive to the local video store, pay a few bucks for a three-day rental, and take the VHS tape home to watch. (And avoid late fees by remembering to return it on-time.)
The video store visited most often was Blockbuster. There were options ranging from local mom-and-pop stores to other nationwide chains, but Blockbuster was by far the market leader. They usually had what you wanted, and carried a wide range of titles, including selections of foreign and classic films.
It was good while it lasted, but then an upstart internet company called Netflix came along. Netflix started out as a video rental store with a twist: Instead of driving to the store, you ordered your movies online, and Netflix sent you the DVDs in the mail. Their business model was quite similar to Blockbuster's, except for the DVD-by-mail part.
Netflix soon switched to a subscription model. For a flat monthly fee, customers could have unlimited DVDs delivered (with no late-return fees). Eventually, as digital storage prices came down and high-speed internet service became available to more customers, Netflix added the on-demand streaming video service we now know, followed by compelling original content.
Blockbuster had no response to these developments; apparently believing the corner video store model couldn't fail. They even turned down an offer to acquire Netflix in 2000. Blockbuster's share of the market fell dramatically after 2004. By 2018, all Blockbuster stores in the world had closed except one in Bend, Oregon.
What killed Blockbuster wasn't simply the convenience of on-demand movies or unlimited-views subscription model. Netflix algorithms interact with each viewer's preferences and use that knowledge to make recommendations to, interact with, and retain customers.
Blockbuster had information about customers' preferences as well; your Blockbuster card tracked rentals and returns. But Blockbuster was unable or unwilling to capitalize on it.
Digitally Transform. Or Else.
If you think it can't happen to your business or industry, think again.
Your goal is not only to track what your competitors are up to. The competitors you need to worry about aren't the ones already on your radar. Startups operating in garages and technology incubators, running in stealth mode or as Kickstarter projects are what should drive your digital transformation.
It pays to keep your finger on the pulse of technology, learn about up-and-coming developments, and ask yourself: "How can this affect my business model? Can I use it to deliver a better customer experience? Will my competitors use it?"
When you find something potentially disruptive or transformative, the time to act is now. Don't wait until your competitors discover and exploit it.
Once you discover a technology and understand its implications, you have nearly everything you need to embark on a digital transformation project around that technology. You know what the technology is and what metric(s) can improve it. All you need is the will and the discipline to change your business model to take advantage of it.
AndPlus can help. We know how to explore new technologies to transform business models. We've done it many times for clients in a wide range of industries. We understand "digital transformation" is more than a website and a Twitter account: It's a fundamental change in a way of doing business.
Bring us your transformation ideas. We live for helping clients with their digital transformations.