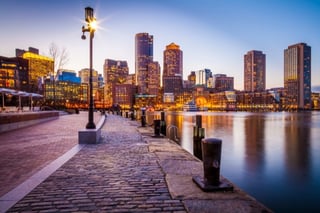 The results are in. For the second year running, the U.S. Chamber of Commerce Foundation has recognized the Boston metro area as tops in the nation for startups.
Sorta takes the sting out of that Super Bowl result, doesn't it? (Philadelphia, it should be noted, came in third. Take that, Philly.)
But before we rest on our laurels, let's take a step back: What, exactly, makes a city great for startups?
Elements of a Startup-Friendly Environment
The U.S. Chamber of Commerce Foundation looked at a variety of metrics to come up with its index of investment in tech startups:
Number of startup companies in the area
Total capital invested in those startups
The area's talent pool
Support of local governments and established industries
Results of a survey of startup leaders
The two key factors seem to be the talent pool and what the U.S. Chamber of Commerce Foundation calls "connectivity"—that is, the willingness of local governments and other area stakeholders to do what it takes to attract, promote and nurture a vibrant startup community.
The Boston area clearly excels in both of these factors. Boston's civic and business leaders do an admirable job of spreading the startup-friendly message to attract innovators, investors and talent to the area.
But, perhaps the most important factor is the deep talent pool that's available. Part of that is related to the existing community of tech companies, both startup and established. Anchored by strong, successful technology companies of all sizes, the Boston area is already known as a technology hotbed.
The other factor that drives the depth of the talent pool is the large number of prestigious universities packed into the area. Year after year, Harvard, MIT, Tufts, Boston College, Boston University, and others churn out talented, motivated, focused, innovative tech graduates who are willing to take risks and do what it takes to succeed.
It's not just newly minted graduates, though. It's the long tradition of ongoing research and development at these universities. Countless Boston-area startups have been spawned from university research projects in engineering, computer science, and other areas of study, and many of the professors heading up these projects are also serial entrepreneurs.
Success Breeds Success
In one sense, Boston is a great place for startups because it's always been a great place for startups. The success of startups in the area attracts the talent, which breeds more successful startups. Once the cycle gets going, it's difficult to stop.
In this always-on, wired, connected world, tech startups can exist pretty much anywhere there's a high-speed internet connection. Certainly there are cities across the country (and world) with lower costs of living, warmer weather, and friendlier drivers. But there's something to be said for proximity: Having a large and vibrant community of startups, fueled by local talent and local capital, all within a few square miles, seems to outweigh the advantages that other cities have to offer.
So we'll take our Number One ranking, thank you very much. We'll get back to winning Super Bowl trophies next year.