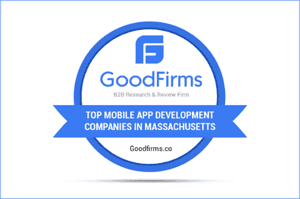 Washington D.C. based GoodFirms acknowledged AndPlus and placed it among the list of top mobile app development companies and top web development companies on its research and review platform.

About AndPlus:

AndPlus is a 15-year-old software development and mobile app development company that has headquarters in Massachusetts. The company prudently handles every critical client requirements and comes up with a solution that cultivates the brand image of their clients - be it a startup and or a big enterprise.

The firm is a veteran in MVP (Minimum Viable Product) approach wherein it follows a four-step process for software application development that includes product mapping, design/development, app launch, and lifecycle (on-going product maintenance). The organization believes in maintaining complete transparency from the day one of client interaction. It gives access to its internal project management software through which the clients can track real-time updates. AndPlus refer this methodology as Agile+, which helps them in fine-tuning the development process.

AndPlus plays the role of collaborators and delivers every client project like their in-house project. In a vast course of experience, the organization has earned mammoth success in the industry, and one among them is achieving remarkable positions on the lists of best mobile and web development companies at GoodFirms.

About GoodFirms Research Methodology:

GoodFirms incorporates a highly reliable and unbiased research methodology to recognize and rank the finest service providers. The research process includes vetting the companies based on three decisive parameters - Quality, Reliability, and Ability. The refined list of best companies reduces the time and efforts of various service seekers in opting for the most suitable service providers for their project needs.

GoodFirms Positioned AndPlus on the List of:

1. Mobile Application Development Companies in Massachusetts:

AndPlus achieves a prominent rank on the list of top mobile app development companies in Massachusetts because of its strong market penetration, vast experience in the app industry, rave reviews, analytical professional skills, and worth-noticing portfolios at GoodFirms.

The agency uses vast sets of technologies in launching scalable and future-ready iOS and Android mobile applications. Every mobile app product developed by AndPlus is an amalgamation of research, innovation, attractive design, efficiency, and collaboration of tech-experts.

Here Is A ScoreCard Stating The Performance Of AndPlus At GoodFirms:



Inciting reviews received by AndPlus at GoodFirms:

"AndPlus was great to work with and always very responsive. They were very accommodating to our changing needs."
- Sarah Geden, Contract System Manager at Direct Media USA

2. Web Development Companies in Massachusetts:

GoodFirms places AndPlus among the top web development companies in Massachusetts because of its astonishing services in the arena of website development.

AndPlus constantly stay updated with the upcoming technologies, which in turn help them develop effective web solutions. The agile web development along with scrum methodologies practiced by the company make them extremely efficient.

ScoreCard Depicting the Performance of AndPlus at GoodFirms:






About GoodFirms:
Washington, D.C. based GoodFirms is a maverick B2B research and reviews firm that aligns its efforts with finding the top web development and mobile app development companies delivering unparalleled services to its clients. GoodFirms' extensive research process ranks the companies, boosts their online reputation and helps service seekers pick the right technology partner that matches their business needs.