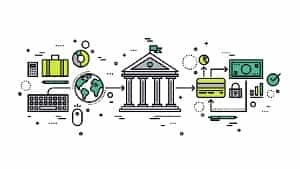 In his 1991 song "Better Class of Losers," Randy Travis sang that his kind of people were not those who "pay their bills on home computers." At that time—before the World Wide Web—paying bills on home computers was revolutionary, available only on online services such as AOL and CompuServe.
These days, Randy's friends probably do pay their bills on their home computers or their phones, or have payments automatically withdrawn from their bank accounts. Although it's still possible to pay a bill by writing a check and sending it through the mail, it seems quaint and old-fashioned now. Technology has made it much easier, faster, and more convenient to pay bills, make deposits, and perform myriad other banking tasks, for consumers and businesses alike.
In this article, we discuss some of the ways that technology has transformed modern banking and financial services.
Artificial Intelligence and Machine Learning
If you've ever had a credit or debit card declined while trying to make a purchase, and then received a text message a few seconds later alerting you to potential fraudulent activity on your card, you've probably seen some banking artificial intelligence (AI) in action. ("Probably" because the banking industry also uses algorithms that are not based on AI to identify potential fraud.)
Automatic fraud detection, AI-based or not, has made transactions much more secure. Because these systems can monitor millions of transactions every hour of every day, they make credit card fraud more difficult.
But fraud detection is only one application of AI that has improved modern banking. Others include:
Machine vision. As discussed previously in this space, ATMs can now take deposits of cash and checks, counting the cash and determining the amount of each check through machine vision processes. The result is that, in most cases, you have immediate access to the funds you deposit, even if it's the middle of the night or on a weekend or holiday—no more waiting for a human to come along and process the deposits manually.
Risk management. Automatic risk assessment algorithms can help lenders determine the creditworthiness of potential borrowers, by considering more than just the scores from credit reporting agencies. The result is faster, more reliable decisions on both consumer and business loans.
Electronic Documents
There was a time when applying for a mortgage loan, or even simply opening a bank or brokerage account, involved filling out endless forms by hand and signing them in ink. To a large extent, all of these can now be done on the internet, without ever setting foot in a bank or brokerage office. With the advent of electronic signatures, documents can be signed and authenticated securely and officially. (Closing a mortgage loan still involves a notary and lots of ink signatures; perhaps someday even this last bastion of tree-killing will join the 21st century.)
Mobile Apps
Home computers were just the first step in making financial transactions more convenient. The advent of smartphones and mobile apps has taken this convenience to a whole new level. Consider:
Services such as Apple Pay and Samsung Pay leverage near-field communication (NFC) technology to enable quick, convenient payment at point-of-sale terminals at thousands of retailers.

Many banks' mobile apps enable users to deposit a check simply by taking a picture of it. (This doesn't yet work for cash, however.)

Bank mobile apps now enable easy fund transfers, not just between your own accounts at one bank, but between accounts at different banks and from one person's account to another's. Need to split the bill at a restaurant or reimburse a friend? No problem. Need to send money to your kid at college? Easy. (Too easy, perhaps.)
Payment Processing
With the rise of e-commerce in general, and online marketplaces such as eBay, Etsy, and Amazon, in particular, more people than ever have set up shop as retailers of one kind or another. In parallel with that phenomenon has been the rise in the number and variety of ways for these retailers to be paid. Whether it's a simple PayPal account or a full-service payment gateway that enables retailers to take a multitude of credit and debit cards (once a privilege reserved only for larger retailers), online sellers have a wide choice of convenient, cost-effective payment options.
Securities Trading
Trading in stocks, bonds, and other securities was once an activity that only the wealthy participated in. Brokerages offered personalized service and charged high commissions.
The internet changed all that. Companies such as E-Trade and TD Ameritrade enabled customers of much more modest means to invest in securities. These sites not only provided trades at a fraction of what a traditional brokerage would charge, but they also provided research information and educational resources to help customers become smarter investors. As a result, trading volumes on the major stock exchanges are many times greater than they were before the advent of online trading.
Blockchain
Blockchain technology is better known for its influence outside the banking system, specifically by being the underlying technology behind various cryptocurrencies, which enable users to securely and anonymously pay for goods and services without using bank or credit card accounts.
Though not widely used yet within the banking industry, major banks around the world are researching blockchain technology for applications such as secure recordkeeping and fraud prevention. There are many potential uses for blockchain in banking and financial services that have nothing to do with cryptocurrencies.
Big Data and Fintech
Like many companies today, banks do not suffer from a lack of data. Quite the opposite: They have so much data that organizing it, managing it, securing it, and analyzing it have become major challenges in the banking sector.
The solution lies in applying the advanced tools and techniques of big data analytics. These techniques, along with machine-learning approaches mentioned earlier, can help banks and other financial services companies extract value from their data and use it to make day-to-day, tactical decisions as well as long-term, strategic decisions.
This brings us to the general area of fintech, or financial technology. Everything mentioned in this article falls into the broad category of fintech.
Fintech is proving to be disruptive in many ways; some a net positive for banks (and banking jobs), some not so much. Automated, AI-powered risk assessment and decision support systems enable faster decisions on what customers to lend to and what businesses to invest in, but at the cost of loan officer and risk analyst jobs. The rise of crowdfunding and microlending platforms have enabled individuals and small businesses to tap into investment and credit financing that were once reserved for more established entities; banks are thus no longer the sole gatekeepers to credit. Cryptocurrencies offer an alternative to banking and its numerous government-imposed regulations.
In short, it's an exciting (or scary, depending on your perspective) time to be in the finance industry. Thanks to technology, the financial services industry is evolving more rapidly than at any time in its history. As emerging technologies mature and see more adoption, this trend will only continue.
AndPlus is active in the fintech space. With projects such as the Bloomberg Vault and others completed or in progress, we are committed to applying our advanced development methodologies and technical know-how to serve the particular needs of banks and other entities in the financial industry. Fintech is becoming a vitally important area of development, and AndPlus is here to help.