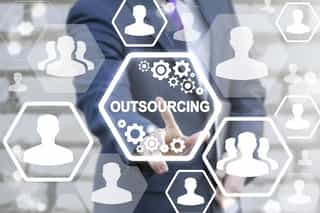 In the past few years, the term "outsourcing" has accumulated some unpleasant baggage, becoming associated with the idea of eliminating domestic jobs and shipping the work to much cheaper overseas providers. Worse yet, the quality of the products and services of these "outsourced" resources is often regarded as inferior to what was provided domestically.
This is actually a misguided notion of the term "outsourcing." Certainly, the use of overseas resources (more accurately known as "offshoring") is a type of outsourcing, but the more general idea of outsourcing is simply engaging an outside entity to perform tasks that your organization does not have the ability, desire, or resources to do in-house. Chances are, your business may be an outsourcing destination for your clients. Even purchasing a round of sandwiches for your team during lunch is, essentially, outsourcing lunch duty to that restaurant, rather than having your team spend time making sandwiches.
Whether the task is cleaning the bathrooms or developing custom software, outsourcing can be a good thing—if you choose the right provider.
"Working with us means total transparency. That means full access to our project management tools or even spending time in our office with our design & engineering teams."
- Craig Gosselin
Chief Business Officer, AndPlus.
Advantages of Choosing a Software Shop
Even if your organization has an internal software development team, chances are good their expertise and experience are limited to a handful of (possibly obsolete) technologies. The departure of one person from such a team often can cripple the team's ability to maintain existing systems or develop new ones. That's why outsourcing software development is an important option to keep in mind. Consider these advantages of choosing a software shop for your custom software development needs:
Expertise in a wide range of technologies. A good custom software shop will have extensive knowledge of and experience with a number of technologies and tools, and will be equally comfortable with the up-and-coming and the tried-and-true. This gives you access to leading-edge solutions, rather than locking you into an approach or technology that could be obsolete (and therefore difficult and expensive to maintain).
Advanced development methodologies. Choosing a software shop means engaging a team that has a proven approach to understanding your business problems and requirements and collaborating with you to ensure the end product meets those needs. This kind of team will spend time with you, in person, to understand the nature of your business and its pain points, document your requirements, and verify them with you before writing a single line of code.
Responsive, long-term customer support. A good, domestic software shop will have business hours and a holiday calendar that match, or at least significantly overlap, with yours. When you have questions, you can pick up the phone and have them answer right away. And the support doesn't end when your check clears the bank; a good shop will stand behind its products for as long as you use them.
Superior quality. A business that does only software development—whose success depends on delivering the right software solution the first time—is necessarily more motivated to provide superior quality than a business for which software development is at best a side line. A good software shop has a robust quality assurance system and dedicated testers who make sure any bugs are discovered and addressed before delivery of the solution.
The big picture is that outsourcing your software development projects to a dedicated team of specialists ultimately saves you time and money, with quicker turnaround, application of the right technology, and delivery of a solid, complete software solution that meets your needs from Day One.
Choosing a software shop, therefore, doesn't have to mean engaging an unknown team on the other side of the planet. The team at AndPlus are all right here, just a phone call away, and the only thing we like better than talking with our clients, and meeting with them face-to-face, is delighting them with compelling, innovative solutions to their business problems.