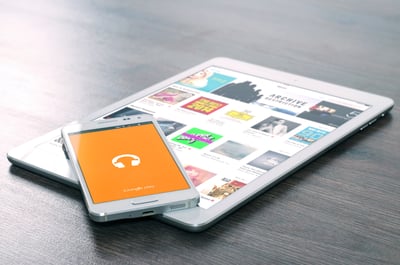 Is it getting harder for you to 'Take It Easy' when running your business these days? The loads of the business person have changed a lot over the years. Now, worries aren't limited to mergers and acquisitions, the upheaval between sales and marketing, and a demanding customer base. Today's business people also have to contend with finicky websites, bloated databases, and the growing pressure to develop mobile apps for customers and workers. If you aren't careful, the sound of your own wheels will drive you crazy.


Don't Let the Sound of Complaints About Mobile Apps Drive You Crazy
It gets kind of crazy on the open highways of business, but you can navigate without losing your mind when you find the right mobile development solution.

When it comes to mobile app development, there are two ways to go about it. The first is to pile the workload onto your IT department, hoping they are able to haul a flatbed Ford full of user requests, manage the increasing demand for greater cyber security, and keep the network up and running -- all while trying to build a mobile app that can compete with those rolled out by the likes of Google and Microsoft.

The other way is to hire a mobile app development company. But how do you find a developer who won't blow your cover by coming in over budget, past deadline, and delivering less than a stellar user experience? Mobile users are quick to take their sweet love elsewhere if the app isn't up to their expectations.
You Don't Have to Drive to Winslow, Arizona to Get a Great Mobile App
Agile app development removes the road blocks standing in the way of your wheels turning.

Lighten up! There's a better way. Agile development is a method used by the top-notch mobile app development team at AndPlus. The process begins by developing a collection of 'User Stories.' Each story represents a use case for the mobile app to be developed. You then prioritize the User Stories to determine what you want first, second, third, etc.

The mobile app developer then breaks each User Story into a small, manageable load and begins the first 2-week sprint, in which time they deliver a fully-functional section of code that meets the User Story with the highest priority. They then continue to work in 2-week sprints, delivering a section of usable code at the end of each. This process goes on until you are 100% satisfied that the project is what you want and need. It really takes a load off of your mind.

To learn more about the Agile development process or to get AndPlus started on your mobile app development project, download the Agile 101 Handbook now.