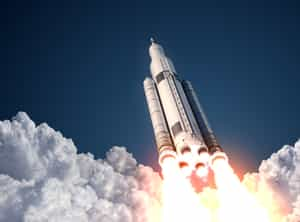 When you watch a rocket launch—whether it's a high-profile NASA Mars mission or a commercial satellite launch by the likes of SpaceX—you're seeing the culmination of months, sometimes years, of design, development, project management, planning, and execution. The bit where the rocket actually leaves the launch pad and goes into space should be the easy part: Just count down to zero, push a button, and watch it go, right?
Not really.
Launch is probably the most nerve-wracking part of the whole process. Even with exhaustive checks and double-checks, not to mention automated monitoring systems continuously checking system readiness, countless things can go wrong and abort the launch at the last minute. You know this well if you remember the first few years of the U.S. Space Shuttle program, or have been following the progress of SpaceX and Virgin Galactic.
And as the Challenger disaster showed, even if all the systems appear to be ready to launch, things can still go catastrophically wrong.
Software product launches can be similarly exasperating, albeit on a less dramatic scale.
The Final Countdown
At AndPlus, we understand that a software product launch—the point at which the software is released to customers—can make or break the overall success of the product. That's why we dedicate an entire sprint, called the launch sprint, solely for launch preparation after the product is considered ready for release.
In the launch sprint, we work closely with the client, guiding them through the launch process with the following activities.
Final feature testing and final changes: Even though we work with the client throughout the development process to ensure we are delivering exactly what they asked for, we know there will be some last-minute changes. If we've done everything right, these changes will be minor and cosmetic. In any case, any newly added features or changes from the final development sprint need to be tested and verified.
Regression testing by our QA team: This is the final check of the software to make sure that none of the last-minute changes introduced any bugs or unwanted behavior. All functionality, as well as the look and feel, are checked one last time.
Setting up hosting and cloud deployment libraries: With many software products living either partly or completely in the cloud, a good deal of planning and setup need to happen to ensure the system works as expected. The cloud provider (such as Amazon Web Services or Microsoft Azure) needs to be engaged, service-level agreements negotiated, the system architecture implemented in the production environment, and the server software installed and tested to ensure a good end-user experience.
Navigating App stores: For mobile apps, the software needs to be submitted with enough lead time for approval and availability by the launch date. Each app store has different rules and different hoops to jump through, and apps that aren't fully ready can get tripped up in the intricacies. AndPlus knows this process well and we know what it takes to ensure a smooth ride through approval.
Why It Matters
A problematic product launch can be difficult to overcome. Microsoft's Windows 95 infamously crashed while Bill Gates himself was giving a high-profile public demo. Although the gaffe didn't seem to hurt sales, it did sully the product's reputation; Windows 95 was, throughout its lifetime, commonly considered half-baked, a problem from which it never quite recovered before its successor, Windows 98, was released (to better reviews, if less fanfare).
It can be frustrating to think that your software's development is complete, but the product is not ready for launch. We understand clients' impatience—they've waited this long to get their product ready, and now they have to wait another week or two? But once they understand the many things that can wrong between code-complete software and product launch, they appreciate the extra sprint that we go through to make sure there are no hiccups leading up to Day 1.
At AndPlus, we can't be successful unless our clients are successful. From making sure we understand the complete requirements, users, and environment, through ensuring a smooth product launch, we do everything in our power to ensure each client's success. It's the AndPlus way.