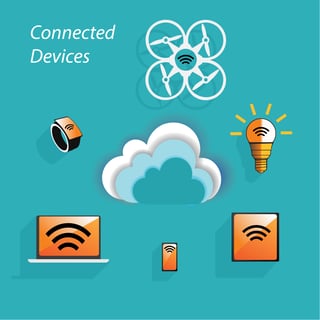 Bluetooth Low Energy (BLE) is everywhere now, from headphones to peripherals to advanced medical instruments. Being hailed as a game-changer by the industry, it's a wireless personal area network that is able to send data short distances with low energy consumption. BLE was built specifically to power the Internet of Things, and its ability to operate using minimal energy makes it suitable for devices running for long periods of time on batteries or energy-harvesting equipment. Inexpensive and easy to work with, BLE's adaptable architecture offers developers unlimited potential.
How BLE Works
So, what are we doing with BLE that's got everyone so excited? It's already in use across more than eight billion products, according to the Bluetooth Special Interest Group, and that number is set to increase by 2020.
Basic applications include hands-free calling and entertainment in cars, connected healthcare appliances such as asthma inhalers and blood glucose monitors, home automation methods, and wearable technology. Previously, Near Field Communications (NFC) was the go-to technology for many of these purposes. With a communication range that compares favorably with previous Bluetooth generations, however, BLE offers possibilities we haven't considered.
Key features of BLE are improved security using 128-bit AES data encryption, scalability, and minimal energy requirements that enable devices to run for up to two years on coin-cell batteries. Standardized development architecture keeps operating costs low, and use of industry standard wireless protocols makes it easy to operate across a range of vendor platforms.
Pushing BLE to the Limits
It's a brave new world out there, and we're going to push all the limits. Some of the more sophisticated uses include:
Smartphone apps that enable monitoring of mechanical and electrical systems, which eliminates wiring in motors, reducing weight, fuel usage, and manufacturing costs.
Smart shirts that monitor the wearer's heart rate and deliver activity data to a Bluetooth-enabled smartphone or tablet.
iBeacons that make location-based mobile services such as digital wallets, couponing, and promotions easy and inexpensive.
AndPlus recently created an application for Onset to manage conditions for vaccine storage and transport. This required enabling the Bluetooth radio in a smartphone to communicate with multiple data loggers at once, robustly and accurately.
Bluetooth 5 Possibilities
Current uses don't come close to the possibilities for the future, however. With Bluetooth 5 on the horizon, you can expect better quality connections across longer distances, at higher speeds and with greater accuracy.
Bluetooth's next generation was released in December 2016 and offers dramatic improvements. These include four times the communication range, double data transfer speed, and enough bandwidth to support two sets of wireless devices simultaneously. How this will play out differs across various applications, but some developments are exciting:
1. A longer range, which means:
Runners can leave smartphones up to 800 feet away and still have wearables communicate effectively while making their way around a track.
Music lovers can place speakers or headsets further away from phones without losing audio.
More household devices will be able to connect wirelessly with each other, across longer distances than before.
2. Faster data transfers will enable more capability, such as location-based advertising and promotions. Anything that sells advertising helps encourage improvements in technology, so the fact that retailers can use iBeacons to detect a user's location and deliver data streams without slowing their devices is bound to increase uptake. Better downloading will make users less likely to opt out because of delays, so this is a win-win all round.
3. Bluetooth 5's better sound quality is another result of higher data ceilings. By being able to hold and transmit more data, we can preserve audio better after it leaves the broadcasting device. This gives hope to those disappointed in the quality of sound delivered by wireless headphones, and because of the low energy requirements these improvements don't come at the cost of higher battery usage.
Incorporating standard functionality improves time to market, and building new BLE applications on the back of existing, industry-standard technology saves some of the time it takes for testing and approvals.
The increase in BLE's capabilities and applications offers so many opportunities that no company worth its salt should continue operating without looking into how it can benefit from Bluetooth. Whether it's