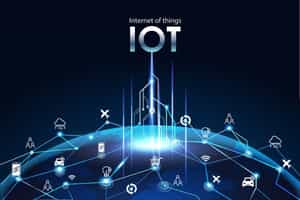 Just in case you've been hanging out in outer space for the last few years, IoT is the idea that all kinds of devices—from single-purpose temperature or pressure sensors in industrial machines and home automation devices to shipping containers, automobiles, and street lights—will be connected to each other and to the cloud in an ever-expanding network, both wired and wireless, providing data or carrying out useful tasks in isolation or in cooperation with other devices.
By some estimates, 9.5 billion IoT devices were active in 2019, and this number is expected to increase exponentially this decade.
Understanding IoT trends for 2020 and beyond is all about the convergence of multiple technology trends into powerful applications and systems. The top three IoT trends for 2020 are:
1. Security and Blockchain
One of the issues with IoT has been the lack of security. The demonstrated ability of hackers to gain access to home automation devices and automobile control systems has been especially troubling. Device makers are finally wising up and implementing encryption and other security measures in their devices.
One hot new trend in this area is the application of blockchain technology to IoT systems. Blockchain technology enables devices to send data to a distributed ledger that is nearly impossible to hack. In 2020, look for continued development of blockchain-enabled IoT systems.
2. Big Data Analytics and AI
All that data being generated by IoT devices does no good if it can't be analyzed and leveraged to detect problems and make decisions. Big data analytical techniques are increasingly used to make sense of and draw inferences from the steady stream of IoT device data. Also making inroads are artificial intelligence (AI) algorithms that can recognize patterns in the data to anticipate problems before they become costly failures.
3. Edge Computing
The concept of edge computing has emerged as a response to gazillions of IoT devices all streaming data to the cloud in real time, 24/7. That's a recipe for overburdening the network. Much of that data in its raw form is of little use outside the place from which it was generated.
Sending summarized views of this data to the cloud, where it can be used in PC, web, and mobile applications, and store the raw data locally (if at all) is more useful. The devices that process incoming raw data then send summaries to the cloud are called "edge computers."
Already common in some industrial settings, look for edge computing appliances—and IoT devices that themselves act as edge computers—to make inroads in the consumer market as well.
This is just a sample of the ever-evolving IoT ecosystem. These IoT trends will push emerging technology into new application areas, from environmental and agricultural monitoring to smart homes, smart commercial buildings, and smart cities.
AndPlus is watching these trends carefully. We're eager to take on IoT projects. If you have a great idea for an IoT-based application, contact us today to learn how we can partner.