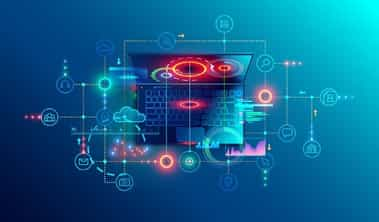 When you need a software solution for your business, you have a lot of options. Traditional choices, such as hiring programmers full-time to develop the tools your company needs are being outpaced. Thanks to our new digital landscape, one of the most efficient methods used to develop software today is outsourcing.
Outsourcing has often been seen as too expensive or too "removed" from the organization to be a viable option for most companies. However, custom software development firms have evolved in a way that makes them much more approachable for modern business owners. Let's take a look at what outsourced software development is like today and four reasons why you should consider it for your company:
Software Development Options
In general, there are three options available when you are deciding how to manage business software challenges:
Hire full-time, in-house developers – The traditional option for larger companies with ongoing technology challenges. Allows you to construct your own team but comes with recruitment and management challenges as well as overhead costs.

Find short-term contractors – If you have enough projects to keep a team busy part-time, finding a short-term contractor work a project-by-project basis can be a good solution. But you may find coordinating your schedule with the contractors' schedules problematic.

Outsource to contract development firm – Outsourcing software development was once considered a fringe option for most companies. It's now become a preference for many midsized companies. Outsourcing firms can give you the advantages of working with a large technology professional and the flexibility to pay for software solutions only when you need them.
You should take a moment to consider the advantages that outsourcing can provide for your company. Here are some of the most important points to consider while you are deciding if outsourcing can work for your software development schedule.
1. More Cost-Effective Than Hiring In-House Staff
The simplest solution for many business owners is to hire their own development team and trust them to solve current software problems and complete open development projects. This seems like a straightforward solution, but an in-house programming team requires a lot of resources to be successful – resources that smaller businesses may not have available.
Outsourcing reduces costs spent recruiting the right team. A good software development firm will have a portfolio of completed projects you can examine before you trust them with the work you need. An in-house development staff also has a lot of overhead. Programmers demand a solid salary, need expensive equipment and will incur more costs related to employee benefits and taxes.
When you outsource your software development, you will only pay for billable hours. You aren't paying employees for non-value-added times such as training or staff meetings. This is especially important to consider if your software developments are generally small or one-off projects. Is there enough work to keep a full-time staff of developers busy? If the answer is no, then outsourcing is the better choice.
2. Wider Range of Technology Experience
Next, consider the level of expertise you'll require from the developers to complete your business' software project. Will you be able to hire one person to complete all the projects you have planned, or will you need several individuals with varied specializations?
Contract development shops keep a roster of experts in a wide range of technologies. You won't be locked into one particular skillset from a single developer or short-term contractor you've hired.
With a contract development company, you can quickly pivot from project to project. You won't have to hunt for individuals with specific skillsets to complete each project because the firm will already have access to professionals that can provide specialized skills for you.
You can also trust that the individuals developing your software have the most up-to-date training available. Contract development shops need their knowledge base to be cutting-edge to remain competitive, and their training isn't done on your dime. An in-house developer's knowledge can get stale without ongoing training.
3. Wider Domain Experience
While some contract developers specialize in specific industries, most of them have a portfolio of clients that hail from varied fields. This gives them a much wider breadth of experience than most short-term contractors or individuals and can benefit the final software product.
This diverse experience plays a more important role than many realize. Most projects encounter roadblocks, and good developers are more likely to have encountered a situation similar to the one your business finds itself in. Chances are, they've likely solved similar challenges. At the very least, they will have the experience to draw from for figuring out solutions to your unique situation.
Instead of guiding a team to finding a solution and then hoping it works, outsourcing the project to software development experts gives you the opportunity to explore the best solutions.
4. Established Optimized Development Process
Contract development firms utilize established development processes that have been refined over the years. You won't need to oversee the development process for an internal team. This means individual projects get completed faster and trial-and-error time is kept to a minimum.
Contract development shops are fully functional teams with extensive experience working together as a team. You won't have to burn time during the ramp-up period when a newly formed team sets up equipment and becomes familiar with one another's strengths, weaknesses, and preferences.
It's easier: You outsource your project to your development firm, receive an estimate for time and costs, and then trust your deliverables will meet your expectations.
Understanding the Difference Between 'Outsourcing' and 'Offshoring'
One of the reasons outsourcing is viewed as a less-than-desirable choice by some business owners is because they confuse outsourcing with offshoring.
"Outsourcing" is engaging an outside vendor for services. "Offshoring" refers to hiring less expensive software development resources in other countries. This can result in a somewhat less polished finished product, albeit at a bargain-basement price. (You may not get what you pay for.)
Some contract development shops subcontract work to offshore resources. AndPlus does not. We provide only the best-trained, highest-skilled experts for your software development needs.
While some companies may have enough development work to keep a full-time in-house development team working 24/7, this is not the reality for many. Consider outsourcing your software development for a more cost-effective and trustworthy method for project development and fulfillment.
AndPlus is a proven development firm. And we have the software solutions you need.