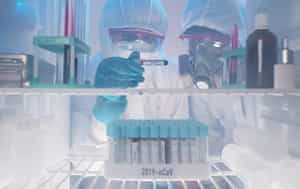 Have you ever thought about what happens to a package when you turn it over to a shipping carrier for transport? Do you have a sneaking suspicion that they don't really pay attention to markings such as "Fragile," "Handle With Care," and "This End Up"?

In most cases, you have no way of knowing how your packages are handled in transit. The fact that mishaps sometimes do occur is the reason why most carriers offer some form of insurance against loss or damage.

Recent technological advances have enabled us to gain more insight into what really happens to goods while in transit and storage. Specialized, inexpensive internet-of-things (IoT) devices called data loggers can be shipped with each package to record and report a variety of metrics regarding the condition of the package and its contents as it made its way from A to B.

In this article, we discuss different types of data loggers, how they work, why they are so important during a pandemic, and AndPlus' role in enabling safe transport of sensitive products.
The Importance of Data Loggers Now
The worldwide spread of the COVID-19 respiratory illness in 2020 has prompted public health officials to call for the distribution of vaccines on an unprecedented global scale. This means transporting vaccines from their manufacturing sites to the farthest reaches of the globe, including areas of the world in which access to medicines has historically been spotty at best, and where electricity and refrigeration are scarce or nonexistent.

The challenge is that many vaccines and other medications must be kept refrigerated or frozen from the time they are manufactured to the time they are administered to patients. Even small, temporary excursions outside the prescribed temperature range can affect the quality and efficacy of the medicine components. Compromised vaccines could be rendered ineffective or even dangerous to recipients.

Thus, monitoring the "cold chain" has become more important than ever, and data loggers are a critical technology in assuring safe delivery of effective medicines to billions of people around the world.
The Reality of global Emergency Vaccine Distribution
With an estimated 5.3 billion doses to be produced and distributed in 2021, the COVID-19 vaccine manufacturers and distributors have a logistical nightmare on their hands. From initial manufacture, packaging, global shipping and local distribution the temperature of each dose must be precisely monitored every single step of the way. Global shipping presents its own set of obstacles, especially as the seasons change as shipments head down to the Southern Hemisphere where summer is around the corner.
There are different tiers of cold chain distribution. The 'ultralow' deep freeze at -70ºC (as required by Pfizer's vaccine) and the 'frozen' chain at a relatively toasty, but not toasty at all -20ºC. These are the primary cold chains that will be used for COVID-19, whereas many vaccines such as for influenza are only refrigerated between 2º to 8ºC.
That's some serious temperature requirements, with serious implications. The question is how are these requirements met, tracked, and recorded after vaccines have left the manufacturer? That's where data loggers and host of related technologies come into play.
data loggers for vaccine transport
The reliability of data logging technology at scale is essential for such a volatile worldwide operation.
Electronic data loggers have four main components:
Sensors to detect conditions such as temperature, humidity, pressure, and physical force. (The latter of which were often used in my favorite Mythbusters episodes, remember those? )

Onboard data processing and storage

Some means of communicating with the outside world, often a combo of bluetooth and cellular.

A source of electric power, usually a small battery.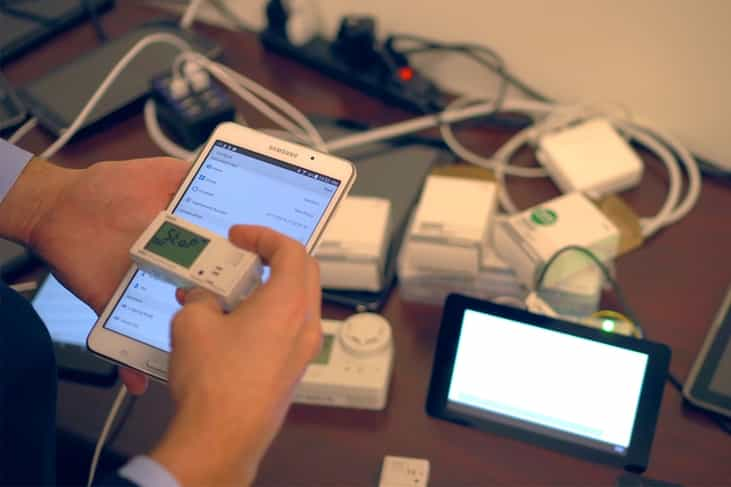 Some data loggers are designed to monitor conditions in storage, and others travel with goods to monitor conditions in transit. Storage data loggers are deployed on devices such as refrigerators, freezers, and incubators. In most system designs, the data loggers communicate with a gateway device, by either a hard-wired or wireless connection, to report conditions continuously or at set intervals. The gateway device collects the data from multiple data loggers and sends the data to a server, either on-premise or in the cloud. The server can alert users of abnormal or dangerous conditions and identify trends that can indicate imminent failure of a storage device.

Transit data loggers differ from their storage counterparts in that they typically do not communicate during transit unless arrangements are made with the carrier for continuous monitoring. Instead, someone on the receiving end reads a display on the device to learn about the conditions during transit or attaches the device to a computer to download and analyze the timestamped data.


One data logger manufacturer that AndPlus has worked with, Onset (www.onsetcomp.com) has a wide array of data loggers that can be used in a multitude of applications. For example, the Onset HOBO Data loggers were designed to work not only under the most extreme conditions, but also at any scale. When vaccine requirements are to keep the vials colder than Antarctica, Onset technology was a no-brainer and it's already being used on all 7 continents.
Applications of Data Loggers
Until the advent of refrigeration in the early 20th century, perishable foods, such as meat and dairy products, could not be transported far from where they were produced without spoiling. Even with refrigeration, there was no guarantee that products would remain within a certain temperature range throughout their journey from the production facility to the consumer.
As supply chains became longer and more complex, it became necessary to protect products in transit from a variety of extreme conditions, such as high or low temperatures, pressures, or humidity. Some goods are sensitive to physical shocks or other rough handling, and some must remain in a specific "This End Up" orientation.
However, until data loggers came along, the means to monitor these conditions in transit were limited or nonexistent. For items that needed to be kept cold, for example, distributors would pack them carefully in insulated cartons with dry ice or cold packs, send them on their way, and hope for the best. The development of overnight delivery services helped, but more was needed to ensure that products were protected in transit.
With data loggers, it's possible to record and report a minute-by-minute history of these conditions from the moment it leaves the distributor's loading dock to the time the recipient opens the package at the other end. This capability provides a number of advantages, such as:
Determining whether the goods in a package experienced adverse conditions at any point in transit

Pinpointing exactly when and where those excursions occurred, so that improvements can be made

Determining the minimum measures (such as packing in dry ice) that are needed to guarantee the goods are protected

Discovering patterns and trends that can indicate when extra protective measures should be taken
WATCH: Our proud partner, Cold Chain Technologies answered the call for H1N1 and are ready to provide support in the safe distribution COVID-19 vaccines.
AndPlus and Data Logging Technology
A comprehensive data logging system isn't just about the data loggers. Multiple pieces of software and hardware are involved, including:
Embedded system software in the data logging devices

Firmware in the data collection gateways

Server software for managing device communications and sending alerts

Application software (both mobile and web or PC software) for analyzing the data and displaying the results

At AndPlus, our development teams have extensive experience developing the software for all of these components. In our work with Onset Computer Corp., we developed an end-to-end system for cold-chain temperature monitoring, alerting, and analysis that is used for both storage and transport of temperature-sensitive materials around the world.


The increasing complexity of global supply chains and sensitivity of goods in transport demand modern technological solutions to ensure the safety of these goods in transit and of their ultimate consumers. With the monumental task of COVID19 vaccine distribution already in process, we feel privileged to have had a role in ensuring the safe and effective distribution of long-awaited vaccine. Going forward, AndPlus stands ready to help with solid, reliable software solutions to these critical supply chain challenges.
"AndPlus works hard to understand and internalize the needs of the project to develop impressive, high-quality solutions."

- Erich Roth, Director of Software Engineering, Onset Computer.